Skin + Hair Basics
Beard Care 101: How to Have Soft, Itch-Free Scruff
If you want to have a healthy beard, then read these beard care tips. They'll help maintain soft scruff while preventing itching and flaking.
Plus, keep reading to get a FREE Cardon Bamboo Charcoal Sheet Mask + Beard Oil duo! Limited time offer, while supplies last.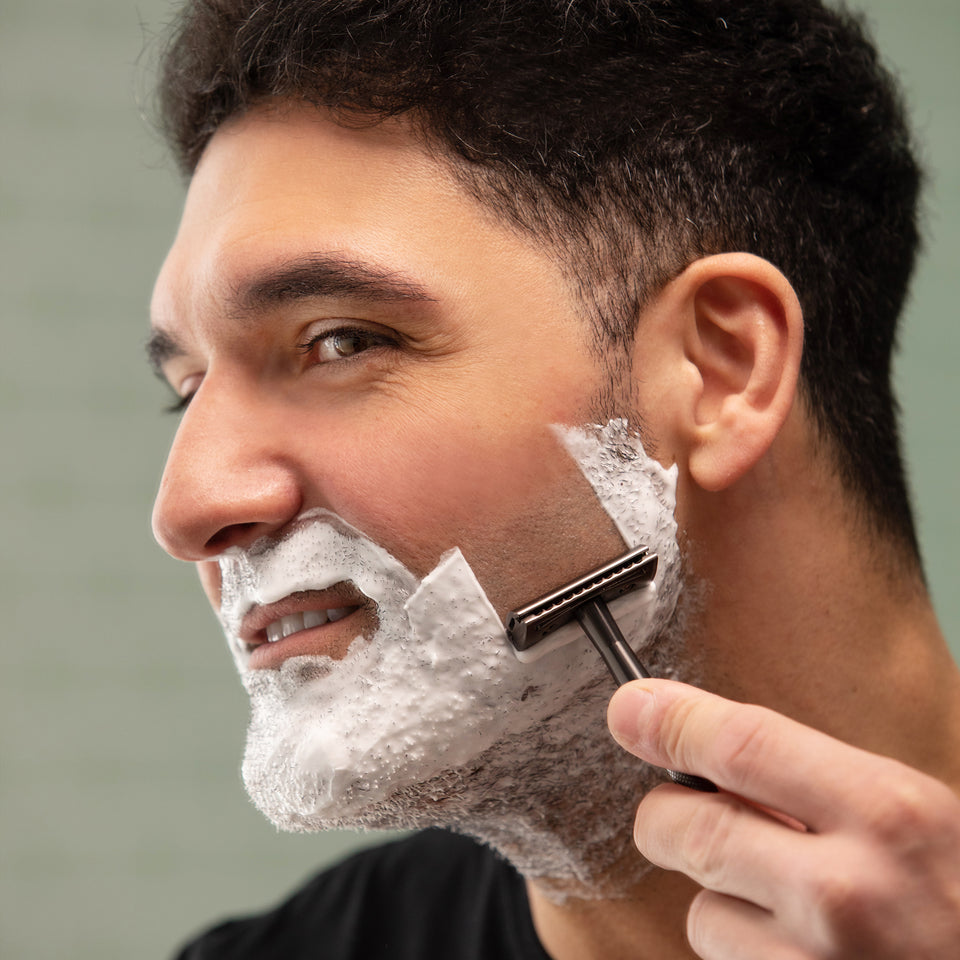 Growing a beard is a great way to change up your appearance, and as a bonus, to keep your cheeks a little warmer in winter. But beards come with an owner's manual that many men choose to neglect: You need to properly condition your whiskers in order to grow a beard to its best potential. Doing so prevents things like beard itch, uncooperative strands, beard dandruff, split ends—and it ensures that your partner wants to keep close in the cold winter months.
So, what does beard care entail? It's not all that different from skincare and hair care: It comes down to proper cleaning and nourishing. It's a short manual to read, but it's well worth your time if you want the softest, strongest, and most stylish beard on the block—any time of year.
Beard Care Tips
Follow these simple steps in order to keep your beard in tip-top shape.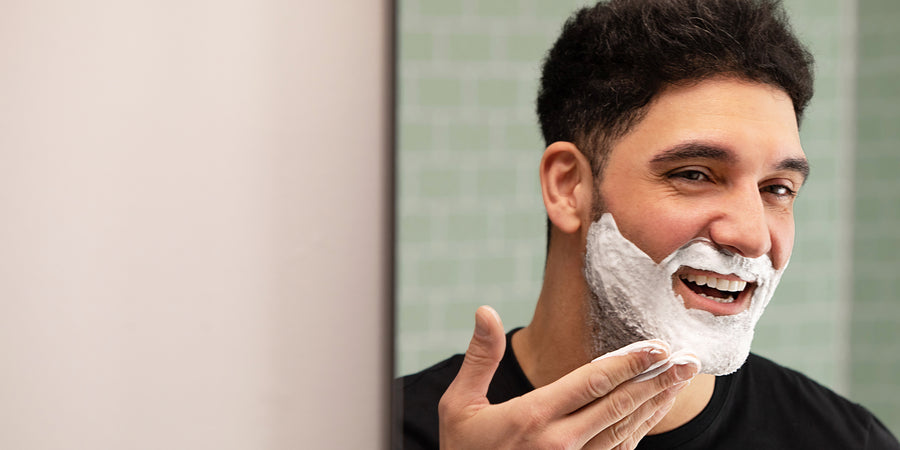 Wash it twice daily: You can use your usual hydrating cleanser to clean your beard—so long as it focuses on nourishment as it cleans. Cleansing twice daily, along with your typical facial cleansing step, will help rid of dirt and grime buildup on the hairs, and keep the strands clean in order to absorb the nourishing products you'll next apply.
Use beard oil twice daily: Beard oil delivers moisture, antioxidants, and nourishment to your strands and follicles, and is easy to distribute throughout the beard hairs. This is especially important as the beard gets longer and it becomes more difficult for your skin's natural sebum to nurture the entirety of each strand, as well as an increased difficulty in applying cream moisturizer to your skin. The oil covers both grounds, while making hairs softer, stronger, and shinier. Unlike beard balm, oil can better seep past the hairs and nourish the skin, too, to prevent itching, dryness, and flaking. So, while it's called beard oil, it's also in fact a face oil—and typically is made with ingredients that won't clog pores, like the non-comedogenic combo of argan and jojoba oils in Cardon's nourishing Beard Oil + Charcoal Sheet Mask treatment.
*SPECIAL OFFER* Use code BEARDCARE101 to get a
FREE Beard Mask On Your Next Order.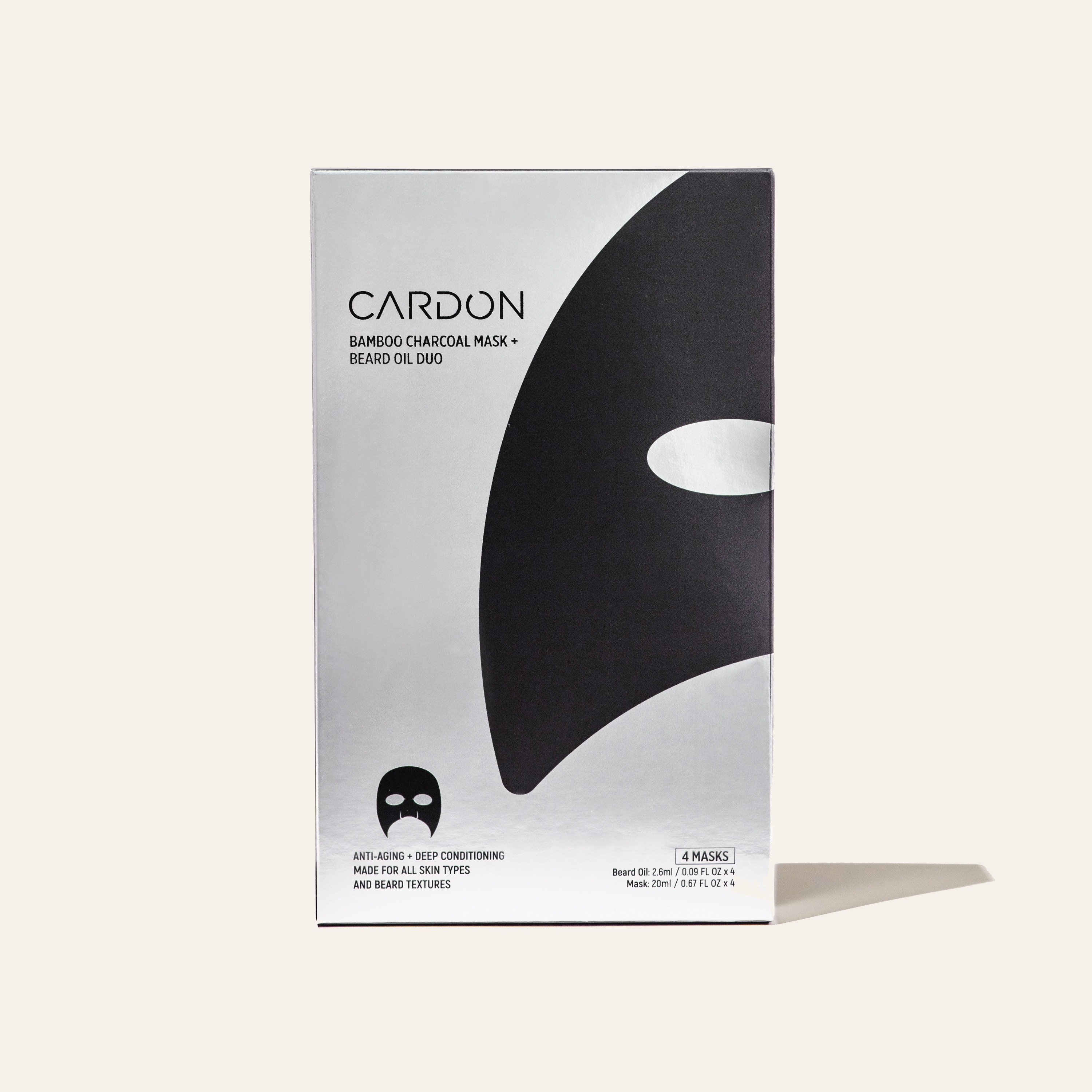 Bamboo Charcoal Sheet Mask + Beard Oil
Dryness
Irritation
Oiliness
Wrinkles
Use a balm during the day: A beard balm contains nourishing oils, butters, and sometimes wax in order to help tame flyaways and coach your beard into a polished style. It does so while also nurturing your facial nest. Note that balms are best used in medium or longer beards, since a combo of standard face moisturizers and beard oil can often nurture shorter, scruffier lengths.
Brush out the beard before styling or conditioning: By brushing your beard in the evening, you not only detangle it, but also help distribute the natural oils from your skin that often have difficulty reaching the ends of each hair. You can brush it out after it is cleansed and dry, then apply beard oil or balm, and then comb or brush it back into place.
Trim the ends (even as it grows): As you would with any hairstyle, it's important to snip away at the ends of your beard hairs as the whole thing grows. This primarily prevents split ends, but it's moreover an excuse to keep tabs on the beard style itself; this allows it to grow different lengths/weights in different spots, instead of simply letting it all grow bushy and unkempt. Thus, keeping it trimmed, even as it grows, is the best way to make your beard look intentional and healthy.
Mind the edges: Don't just let the beard grow freely; you need to clean up the beard neckline and any errant sprouts on the cheeks, in order to keep it looking intentional. For the neckline, place two fingers above the Adam's Apple (about an inch and a half), and "mark" this spot as to where you should shave your beard neckline. Connect this point to the backs of your ears in one big U shape, and there you have it: the exact line to shave and keep clean as your beard grows out. You'll need to tend to it every couple days or every week, depending on how fast your beard grows and how tidy you need to keep it (for work, etc). Your cheek line will largely be determined by how prominently your beard grows there, but fuller beards should typically have a clean line from the sideburns to the mouth. (Whether you connect it into the mustache or below the top lip is up to you, so long as it's kept clean.)
The Best Oils, Butters, and Wax for Your Beard
The best way to keep your facial hair nourished (as well as the skin underneath), is to apply nurturing, fortifying products. Typically, this will be a beard oil or balm, and it's in your beard's best interest to shop products with the most nourishing ingredients—namely oils, butters, and wax. Below are the best ingredients in each category.
When used on the beard, oils have a softening, fortifying effect. Each oil has its own unique benefits, which is why most beard oil blends combine more than one. You might see the terms "carrier oil" and "essential oil" tossed around as you browse products. Basically, the carrier oils are pressed from fatty foods, like avocadoes or nuts, while essential oils are distilled from herbs, florals, or woods, and can thus evaporate over time (they also tend to retain their aroma, much more than a carrier oil). Beard blends will largely center on carrier oils, though they may contain small amounts of essential oils based on the purpose they serve (such as tea tree oil, which has antimicrobial and antifungal properties but which cannot be applied to the skin without dilution).
Here are the most common oils you'll find in beard oil blends:
Jojoba Oil: Has ultra nourishing and moisturizing properties for facial hair and the skin underneath, while also promoting hair growth.
Argan Oil: Rich in antioxidants, it prevents environmental damage on the hairs and skin (like dryness, splitting, and flaking), while also boosting shine.
Coconut Oil: Also extremely nourishing and moisturizing (and with antimicrobial properties), though it can cause breakouts on acne-prone skin.
Sunflower Oil: Rich in vitamins, Omegas, and fatty acids to keep hairs nourished, strong, and soft.
Again, the beard oil in Cardon's Charcoal Sheet Mask + Beard Oil treatment centers on argan and jojoba oil.
And here are some common essential oils found in beard care products:
Peppermint Oil: Stimulates blood flow to the hair follicles, thus improving nutrient delivery and fortifying growth.
Tea Tree Oil: Has anti-inflammatory, antimicrobial properties, making it effective against flaking, itching, and breakouts.
BUTTERS
The emollient butters are terrific bases for beard balms, stylers, and conditioners, and they coat the shafts of your facial hair to help protect the hair while simultaneously nourishing strands. You will likely find a blend of oils paired with this dense butter base.
Shea Butter: Rich in vitamins and fatty acids to soften hair and support firm, soft skin.
Cocoa Butter: Conditions hairs and supports hair shaft density.
Mango Butter: Rich in vitamins and antioxidants to prevent dryness, splitting, and UV damage.
WAX
Beeswax is the primary wax that you'll find in beard stylers and balms. On its own, wax has a high, heavy hold, so it is more optimal for short-beard styling or for taming flyaways. It also helps seal off the hair from environmental damage and dehydration, and provides a hearty shine. However, wax has more universal benefits when blended with butters and oils; its hold lessens to a more lightweight, touchable state, making room for the other ingredients to nourish, soften, and strengthen the hairs.
Shop the Collection
*SPECIAL OFFER* Use code BEARDCARE101 at checkout to get a FREE Bamboo Charcoal Sheet Mask + Beard Oil (Single) on your next order. Don't forget to add the sheet mask to your cart!
Cardon Products Are
Easy to Use
We never create two products when we can achieve the same results with one. Cardon products are designed to be easy to use every day.
Backed By Korean Innovation
Korean R&D is two decades ahead of the rest of the world. Cardon products use the highest quality, most effective ingredients out there.
Non-Toxic
Finally, an ingredient label you can feel good about. Every ingredient in Cardon products is good for your skin, and easy on the mind.